ROBOTIS Dynamixel MX-12W

Servo Robot Actuator
ROBOTIS Dynamixel MX-12W Servo Robot Actuator
#902-0086-000
Our Price: $71.90
Package Components
MX-12W
B01-HORN
HORN SPACER
3P Cable 200mm
16 x Bolt PHS M2x6
Bolt PHS M3x10
16 x Nut M2 (N1)
Overview:
Dynamixel is a robot exclusive smart actuator with fully integrated DC Motor + Reduction Gearhead + Controller + Driver + Network in one DC servo module.
Advanced durability, degree of precision, and wider control zone were achieved thanks to the newly applied contactless absolute encoder
360 degrees position control without dead zone
4,096 precise resolution by 0.088 degrees
Speed control at endless turn mode
Reliability and accuracy were advanced in the position control through PID control
High baud rate up to 4.5Mbps
Shape of the AX-series + durability of the MX-series
The MX-series is a new type of DYNAMIXEL with numerous advanced functions, such as precise speed control, 360 degrees of accurate positioning, PID control, and high speed communication.

The MX actuator contains a new contactless magnetic rotary encoder for accurate angular movement over a full 360 degrees.

The absolute angle measurements provide instant and reliable information of the angular position with a resolution of 12 bits = 4096 positions within 360 degrees. This delivers fine angle movements accurate to 0.088 degrees.
The MX-series also integrates a new PID Control, which automatically and accurately corrects for naturally occurring errors such as backlash (caused by small gaps in the gears). Thus, positioning is more reliable and in compliance to specifications.
Precise speed is controlled through serial data and has a resolution of 10 bits to accurately adjust the high speed movements into 1023 increments of speed control.
Actuator status, commands, and sensor information are easily provided through readable memory and made available as a serial bit stream through TTL communication with a baud rate of up to 4.5 Mbps (4,500,000 bits per second).
Flexible Construction And Modular Structures


Package Components
MX-12W
B01-HORN
HORN SPACER
3P Cable 200mm
16 x Bolt PHS M2x6
Bolt PHS M3x10
16 x Nut M2 (N1)
Compatible Products
Controller: CM-5, CM-510, CM530, CM-700, OpenCM9.04(+ OpenCM485 Expansion Board), OpenCR
Interface: USB2Dynamixel, U2D2
Factory Default Settings
(User can change various settings including ID and baud rate according to environment)
Features and Benefits:
Key Features:
Contactless motion and position sensing
High resolution for precise movements
Standard TTL communication interface
High speed communication up to 4.5 Mbps
PID Control for auto-correction in positioning
Key Benefits:
High reliability and durability
Control of high precision movements
Control of high speed movements
Easy to use
Specifications:
Specifications
MCU
Cortex-M3 (72 Mhz, 32 bit)
Input Voltage
Min. [V]: 10.0
Recommended [V]: 12.0
Max. [V]: 14.8
Performance Characteristics
Voltage [V]: 12.0
Stall Torque [N·m]: -
Stall Current [A]: -
No Load Speed [rpm]: 470.0
No Load Current [A]: -
Continuous Operation
Voltage [V]: -
Torque [N·m]: -
Speed [rpm]: -
Current [A]: -
Resolution
Resolution [deg/pulse]: 0.0879
Step [pulse]: 4,096
Angle [degree]: 360
Position Sensor
Contactless Absolute Encoder (12 [bit], 360 [deg])
Maker: ams(www.ams.com), Part No: AS5045
Operating Temperature
Min: -5 °C
Max: 70 °C
Motor
Cored
Baud Rate
Min: 8,000 bps
Max: 4,500,000 bps
Control Algorithm
PID
Gear Type
Spur
Gear Material
Engineering Plastic
Case Material
Engineering Plastic
Dimensions (WxHxD)
1.26 X 1.97 X 1.57 inch (32 X 50 X 40 mm)
Weight
1.93oz (54.60g)
Gear Ratio
32 : 1
Command Signal
Digital Packet
Protocol Type
Half duplex Asynchronous
Serial Communication (8bit, 1stop, No Parity)
Link (Physical)
TTL Level Multi Drop Bus
ID
0 ~ 253
Feedback
Position, Temperature, Load, Input Voltage, etc
Protocol version
Protocol 1.0
Operating Mode / Angle
Wheel Mode:Endless turn
Joint Mode:360 [deg]
Multi-turn Mode:±28 [rev]
Output
-
Standby Current
60 mA
Performance Comparison: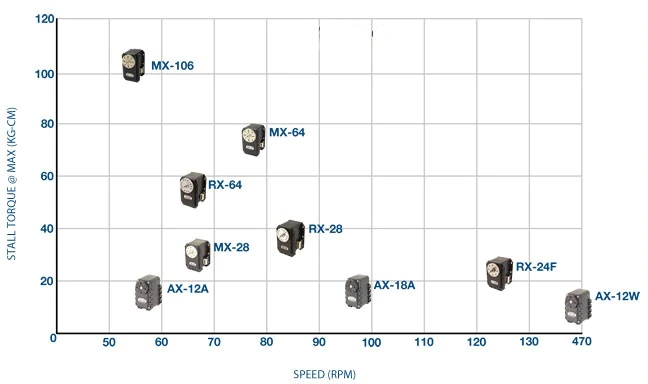 Dynamixel SDK:

Provides various control environment just like Dynamixel
Dynamixel SDK is a software development kit that provides Dynamixel control functions using packet communication. The API of Dynamixel SDK is designed for Dynamixel actuators and Dynamixel-based platforms. You need to be familiar with C/C++ programming language for right use of the software. This e-Manual provides comprehensive information on ROBOTIS products and applications.
Supported Protocols
To control Dynamixel, communication should be established according to the protocol of Dynamixel. There are versions 1.0 and 2.0 of the Dynamixel protocol. The Dynamixel SDK supports both, and the user can use both protocols simultaneously using the Dynamixel SDK. Refer to the following manuals for details on the protocols.
Dynamixel Protocol 1.0
Dynamixel Protocol 2.0 (Recommended protocoltype)
Supported Devices
The Dynamixel SDK can be used on PCs such as desktops or laptops, as well as on tablets, and also on SBCs like Raspberry Pi and UpBoards. In addition, it can be used with embedded boards that support the Arduino IDE. Dynamixel uses TTL and RS485 communication. In order to use computer and Dynamixel, we recommend USB2Dynamixel or U2D2 as interface device.
Supported Operating Systems
The Dynamixel SDK supports all three operating systems: Windows, Linux, and MacOS.
Supported Languages
The Dynamixel SDK supports various programming languages: C, C++, C#, Python, Java, MATLAB and LabVIEW.
In addition, Dynamixel SDK supports ROS, so it can be used as ROS library using C++ or Python modules.
C: *Dynamic library and source code of this library and examples
C#, Java, MATLAB, LabVIEW: Support based on dynamic library using C language
C++: *Dynamic library and source code of this library and examples
Python: Python module and examples
ROS: ROS library using C++ and Python modules
(* Dynamic library (*.dll, *.so, and *.dylib files) / .dll: dynamic-link library on Windows / .so: shared object on Linux / .dylib: dynamic library on macOS)

Video:
Pricing Notes:
Pricing and product availability subject to change without notice.
Robotis Products
ROBOTIS Products
ROBOTIS Dynamixel MX-12W Servo Robot Actuator
#902-0086-000
Our Price: $71.90