ROBOTIS OpenMANIPULATOR-X RM-X52-TNM

Introducing the OpenManipulator Low-Cost Manipulator for ROS and Arduino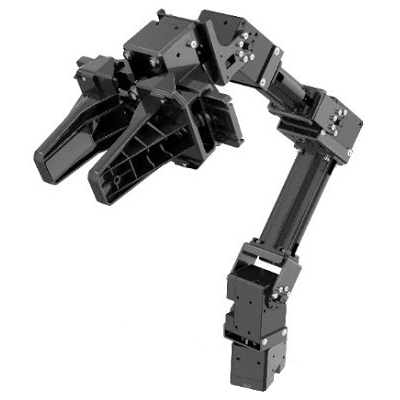 ROBOTIS OpenMANIPULATOR-X RM-X52-TNM
#905-0024-000
Our Price: $1,416.60
Package Components
5x XM430-W350-T
Exclusive Plastic Frame Set
2x FR12-H101K
1x FR12-H104K
1x FR12-S101K
2x FR12-S102K
3x HN12-I101 Set
5x Robot Cable Set X3P (by length)
Bolt & Nut Set
2 types x 2 Rubber Pad (Finger Tip)
Phillips Screwdriver
Click here to jump to more pricing!
Overview:


ROS-enabled OpenMANIPULATOR-X (RM-X52-TNM) is a full open robot platform consisting of OpenSoftware​, OpenHardware and OpenCR(Embedded board)​.
Compact open source robot based on ROS
It has a high payload as DYNAMIXEL XM-430 model is applied.
Easy to use with PC or mobile platform such as TB3 Waffle Pi.
Provides source code and development environment which helps you immediately operate it with TB3 Waffle Pi
You can freely select and use either PC or Controller e.g. OpenCR.
Provides a variety of open source software as well as 3D drawings and CAD data for research and development.
OpenMANIPULATOR-X RM-X52-TNM is an open-hardware oriented platform​. Most of the components are uploaded as STL files so that users can easily 3d print them. It also allows users to modify the length of the links or the design of the robot for their own purposes. OpenMANIPULATOR-X RM-X52-TNM is made of DYNAMIXEL-X ​Series which is used in TurtleBot 3.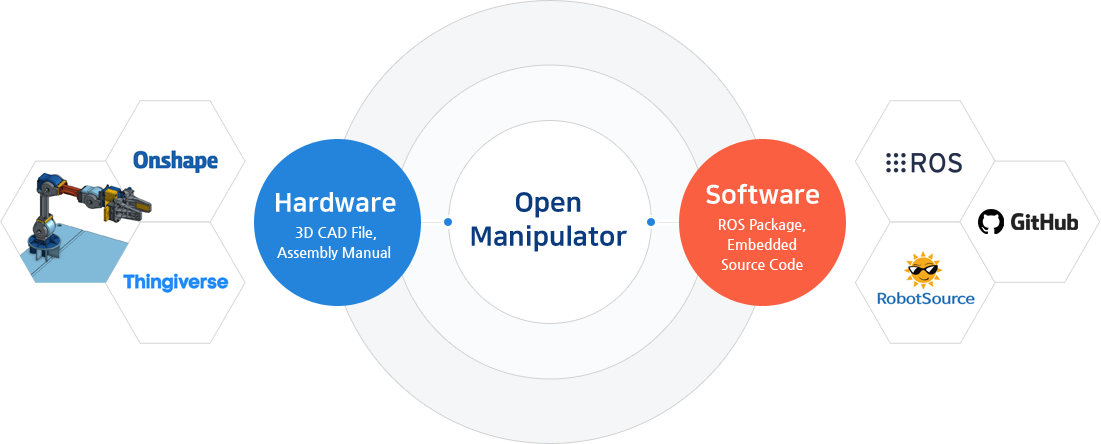 Various Applications
Package Components
5x XM430-W350-T
Exclusive Plastic Frame Set
2x FR12-H101K
1x FR12-H104K
1x FR12-S101K
2x FR12-S102K
3x HN12-I101 Set
5x Robot Cable Set X3P (by length)
Bolt & Nut Set
2 types x 2 Rubber Pad (Finger Tip)
Phillips Screwdriver
*These items are NOT included:
Power Supply: SMPS 12V 5A
Controller: OpenCR or PC
Interface: U2D2
Base Plate-02
Please purchase separately.
Specifications: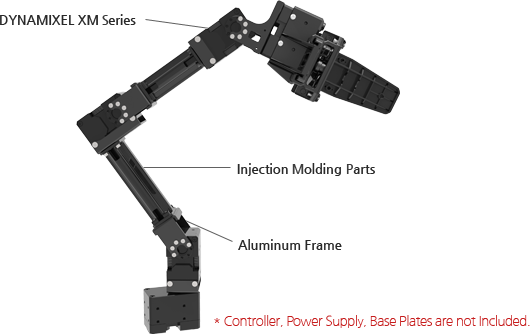 OpenMANIPULATOR-X Specifications
Model Name
RM-X52
Actuator
XM430-W350-T
Power Supply (sold separately)
12V
Freedom of Degree
5 (4DOF + 1DOF Gripper)
Payload
500g
RPM (joint)
46RPM
Weight (assembly)
0.70 kg (1.54 lbs)
Length
380 mm (14.9 inch)
Gripper stroke
20~75 mm (0.79~2.95 inch)
Interface
TTL Level Multi Drop BUS
Software
ROS. DYNAMIXEL SDK, Arduino, Processing
Controller (sold separately)
PC, OpenCR
Dimensions
Workspace Reach and Footprint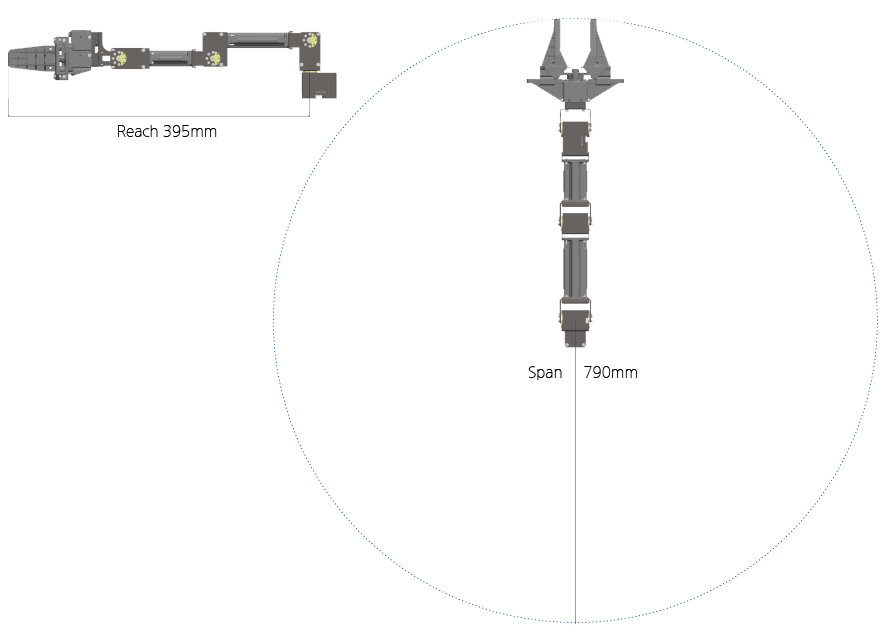 Package Contents:
Compare:
OpenManipulator
Industrial
Competitor
Interface
ROS(gazebo, Movelt!)
○
△
Χ
Arduino IDE
○
Χ
△
Motor Control
Position Control
○
○
○
Current Control
○
△
Χ
Hardware Customizing
Interchangeable End-Effector
○
○
○
Expandable DOF
○
Χ
Χ
Compatible with Mobile platform
○
△
△
Software Customizing
Kinematics
○
Χ
Χ
Motor Controller
○
Χ
Χ
Trajectory
○
△
Χ
Application
Pick and place
○
○
○
Teleoperation
○
○
○
Camera Application
○
○
○
OpenSoftware:
OpenMANIPULATOR-X RM-X52-TNM are based on ROS ​and OpenSource. ROS official hardware platform,TurtleBot series has been supporting 'TurtleBot Arm'. The OpenMANIPULATOR-X RM-X52-TNM has full hardware compatibility with TurtleBot3​. Users can also control it more easily by linking it with the MoveIt! package. Even if you do not have an actual robot, you can control the robot in the Gazebo simulator​.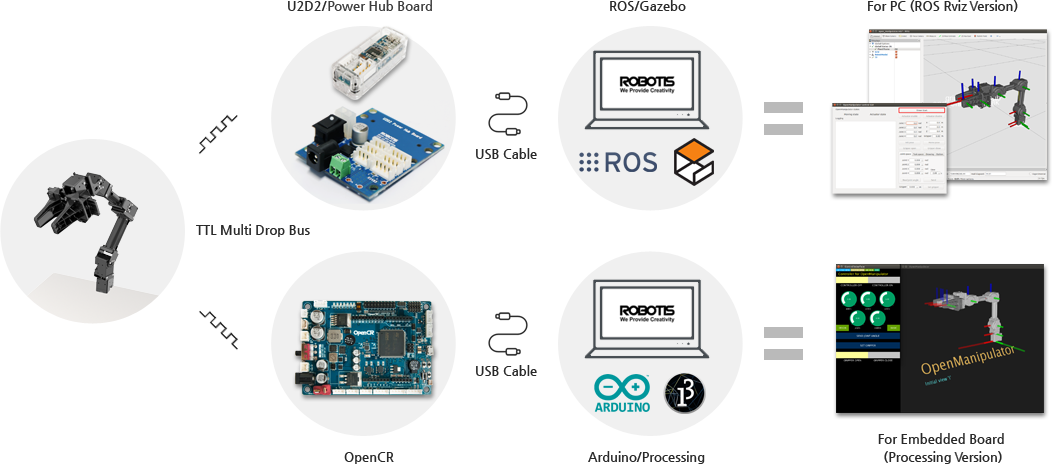 Video:
ROBOTIS OpenMANIPULATOR 01: Chain
ROBOTIS OpenMANIPULATOR 18: Teaching Demo
OpenManipulator-X Frame Set (RM-X52):
Features:
This product is a frame set which can make X430 based OpenManipulator-X.
You can assemble an OpenManipulator (4 DOF Arm + 1 DOF Gripper), which is the same as OpenManipulator-X (RM-X52-TNM).
DYNAMIXEL X430 is not included so you can select a suitable DYNAMIXEL model considering payload.
XH430, XM430 and XL430 are all compatible with this frame and can be also mixed.
You can make an OpenManipulator-X with your desired specification and can fix it on Base Plate-02 or attach it to TB3 Waffle Pi.
Package Component:
Exclusive Plastic Frame Set
2x FR12-H101K
1x FR12-H104K
1x FR12-S101K
2x FR12-S102K
3x HN12-I101 Set
5x Robot Cable Set X3P (by length)
1x Bolt & Nut Set
2 types x 2 Rubber Pad (Finger Tip)
1x Phillips Screwdriver
3x Allen Wrench (by type)
Caution:
DYNAMIXEL, power supply, and controller are not included. Please purchase separately.
When selecting DYNAMIXEL X430 model, the appropriate model should be selected considering communication method and target specification (payload)
XL430 Single-model configuration is not recommended as it might be short of output.
When mixing XL430 with XH / XM430, they (XH / XM430) must be TTL communication model.
When you use XH430-V-series (24V model), you must configure your OpenManipulator as a single 24V model.
AX / MX series, X540 series, and PRO series cannot be used.
The assembly manual is not included, but you can download the PDF file on online for free. (Refer to below link)
Package Contents:
Pricing Notes:
Pricing and product availability subject to change without notice.
Robotis Products
ROBOTIS OpenMANIPULATOR-X
ROBOTIS OpenMANIPULATOR-X RM-X52-TNM
#905-0024-000
Our Price: $1,416.60
ROBOTIS Accessories
ROBOTIS OpenManipulator-X Frame Set (RM-X52)
#905-0023-000
Our Price: $273.70